Boston Survives Atlanta's 9th Inning Rally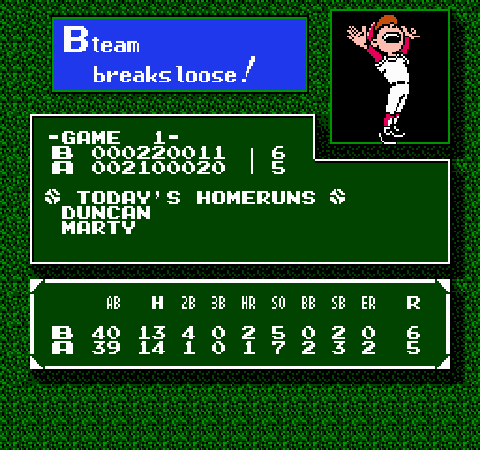 Boston's hopes of holding on started to wane in the ninth inning as Atlanta seemed to have Boston closer Mark's number. With the score at 6-5 Boston, Atlanta opened the inning with a single from speedster Carlos, who wasted no time in stealing second. Things started to fall apart after that though as Carlos failed to steal third on a strike two pitch to Harry, then got caught stealing third on strike three as Harry couldn't lay down the sacrifice bunt. The double-play, however, didn't end Atlanta's threat as the power hitters Scott, Rod, and Marty, with a combined 90 home runs on the season, could tie the game with one swing of the bat. A single by Scott, followed by another from Rod, gave Atlanta runners on first and third with Marty coming to the plate. Marty, who had already hit a home run earlier, seemed to have the upperhand against closer Mark, who was clearly fatigued facing his fifth batter of the inning. "All I could do was throw strikes and hope we could get him out," said Mark. Fortunately for Boston, that's exactly what happened as a pop out ended the game.
Atlanta's troubles in the field today are what really led to Boston's victory. Center fielder Ernie misjudged a line drive, diving for it and missing. The ball went to the fence and Boston was credited with an inside-the-park home run. This marks Atlanta's second straight one-run defeat.

Tim: Wins by 1 runs ($0.25 + $0.05), 5 K's ($0.25), 2 HRs ($0.10) = $0.65
Davey: 5 K's ($0.25), 1 HR ($0.05) = $0.30
Total: Davey owes Tim $0.35
Lifetime: Tim owes Davey $1.20
Series Lifetime: Tim 4, Davey 4
K's Lifetime: Tim: 39, Davey 45
HR Lifetime: Tim 15, Davey 18
Tags: game