Oakland Blasts Crosstown Rivals S.F. 10-3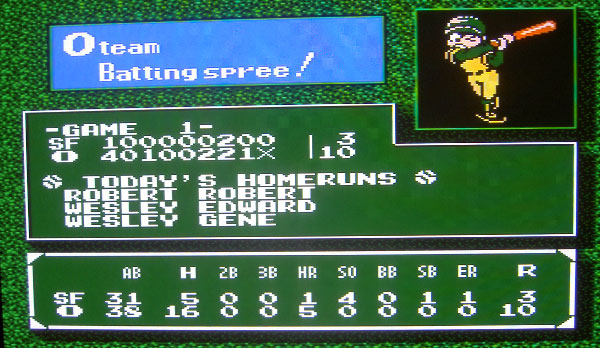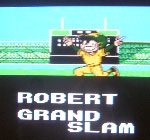 Led by Robert's first inning grand slam and some stellar pitching, Davey's Oakland sluggers blew past S.F. 10-3. After S.F. manufactured a run in the first, Oakland answered with three consecutive hits before Robert blasted a grand slam to left field, blowing the game wide open. Wesley added a solo shot in the sixth before Robert and Wesley both went deep again, this time back-to-back in the seventh. S.F.'s only home run came in the top half of the frame with a two-run shot by Edward in a brief comeback attempt, bringing the score to 7-3.

Oakland's pitching proved too much for S.F. though, holding them to 5 hits and striking out 4. Tim, questioned for his controversial decision to allow pitcher Mac to go the distance despite struggling mightily early on, said "Let's be honest, this game was over in the first inning. I figured I'd rest my other pitchers and we'd get them next time."
"We've got a lot of respect for them," said Davey, "You've got to get to them early and we were lucky enough to do that today." Luck had little to do with Oakland's rout however, with 6 batters each having double-digit home runs this year, Oakland was the odds on favorite.
Davey: Wins by 7 runs ($0.25 + $0.35), 5 HR ($0.25), Grand Slam ($1.00), Back-to-Back HR ($0.25) = $2.10
Tim: 1 HR ($0.05) = $0.05
Total: Tim owes Davey $2.05
Lifetime: Tim owes Davey $1.30
Series Lifetime: Tim 2, Davey 1
K's Lifetime: Tim: 7, Davey 19
HR Lifetime: Tim 6, Davey 7
Tags: game