L.A. Beats Out Chicago in Late-Inning Comeback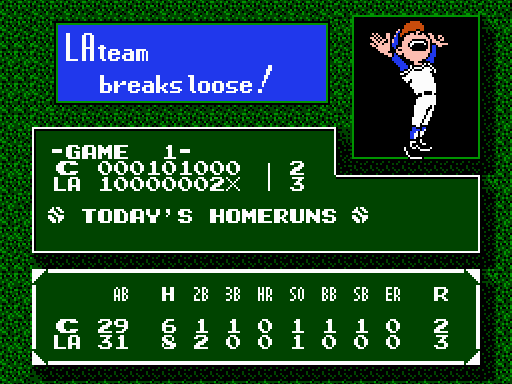 Davey ran his win streak to 2 today, as he led L.A. to a 3-2 victory over Tim's Chicago club. The game, which featured no home runs, was a defensive grudge match. L.A. struck first with a run in the first, but Chicago bounced back with runs in the fourth and sixth. They took the 2-1 lead into the eighth, but a lead-off hit by Tom started a two-run rally that proved to be the deciding factor in the game.
While each team only struck out once, both pitching staffs managed to get hitters to ground out often. The bullpen was kept busy for both teams as nearly every pitcher saw action today. One strategic move made by Davey, was to intentionally walk slugger John. Then, with a fresh pitcher on the mound, he got Brian to ground into a double play.

Davey: Wins by 1 runs ($0.25 + $0.05) = $0.30
Tim: nothing = $0.00
Total: Tim owes Davey $0.30
Lifetime: Tim owes Davey $1.60
Series Lifetime: Tim 2, Davey 2
K's Lifetime: Tim: 8, Davey 20
HR Lifetime: Tim 6, Davey 7
Tags: game